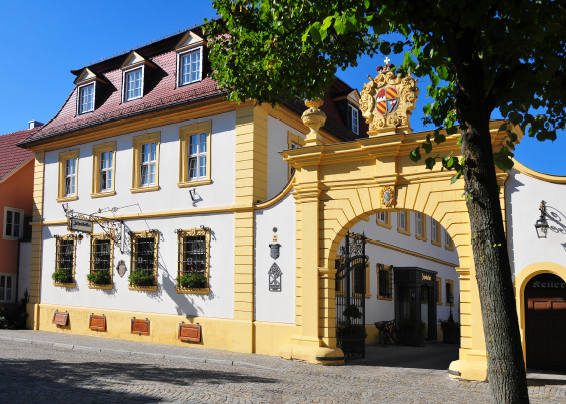 Welcome to the Zehntkeller!
Your romantic hotel in Iphofen on the edge of the Steigerwald.
Let yourself be inspired by our hotel, its excellent cuisine, our recognized organic wines and individual arrangements. Go on a journey of discovery in the Franconian wine country or enjoy the tranquility in our spacious herb garden.
We are happy to be here for you!
Your family Seufert and the whole tithing cellar team
DEAR GUESTS,
Due to the rapid spread of the Corona virus, our hotel and restaurant will be closed as a precaution from March 17, 2020 to April 19, 2020! This is a mere precautionary measure of the tithe cellar.
We would like to point out that this is a precautionary measure to protect our employees and guests. There is no corona case among our employees or guests.
Thank you for your understanding!
FOR OUR WINE CLIENTS,
written wine orders for dispatch by DHL or forwarding will continue to be processed. You can send us your orders as follows:
– by e-mail to: weinordering@zehntkeller.de
– via our wine-shop on our website www.shop.zehntkeller.de/shop
– by fax: 0049 (0) 9323 – 844 123
– by letter / post or with an order card
However, we ask for your patience in processing!
Stay healthy, help the weak and the elderly in our society as best you can.
Thanks to all service providers who are still open. Thanks to the police, nurses and helpers as well as doctors who work tirelessly.
We look forward to welcoming you back to the tenth cellar after the crisis.
sincerely
your family Seufert & Mr. Göpfert